By Joseph D'Agnese of This Old House magazine
(This article is an excerpt from This Old House Magazine)

ILLUSTRATION BY HARRY CAMPBELL
The Anatomy of a Steam Shower
Imagine this: It's the end of a long day. You're tired, or achy, or just want to chase away the winter chill. So, you push a button in the shower stall, plop yourself down on a bench, and melt into a soothing cloud of eucalyptus-scented steam. Twenty minutes later, you emerge feeling relaxed, renewed, and in the pink.
That kind of indulgence used to require a trip to a health spa. But more and more homeowners are opting to re-create the experience at home by turning their ordinary shower stalls into warm, vaporous havens called steam showers. Along with the benefits to your skin and sinuses, there's no standing around waiting for a whirlpool tub to fill or a sauna to heat up—and when you're done steaming, you just turn on the shower for a refreshing rinse.
To summon steam, you simply hit the digital controls in the shower stall. That triggers an electric valve to fill the breadbox-size steam generator with about 5 Litres of cold water. Then, just like a plug-in teakettle, the generator's electric element brings the water to a boil. A pipe channels the hot vapor to the steam head, or disperser, which fills the stall with tropical moisture that never gets above a safe 48 degrees Celsius (settings can vary).
Luxuriate as long as you want: Steaming for 20 minutes consumes a mere 8 litres of water. By that reckoning, steam is a "green" way to bathe. (Even a water-saving showerhead sprays about 180 litres of water in the same period.) Your electric bill is bound to go up, however.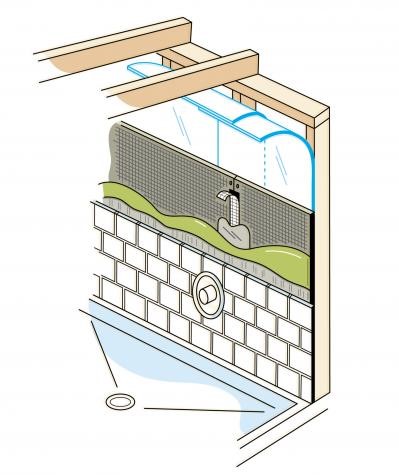 ILLUSTRATION BY HARRY CAMPBELL
Installation and Costs
Installing one of these at home requires a professional contractor. The system should run you about $2,500 installed, plus the cost of the new shower stall and glass enclosure and door.
A survey by the National Association of Home Builders found that more home buyers wanted separate shower enclosures with temperature controls and multiple showerheads than whirlpool tubs. At that rate, it may not be long before steam rises to the top.
Interested in a Steam Shower – Call us for a Quote – We have the Experience
Call us at Calgary Bath & Home Renovations
We're a family business
We've been in business since 1989
FREE ESTIMATES
403-560-0810
Or fill out our contact info sheet on this website
We're here to help