The bathroom vanity is the centre-piece of your bathroom. It sets the tone for the rest of your bathroom design. Today there are lots of choices in styles, sizes, finishes and material including off-the-shelf and custom.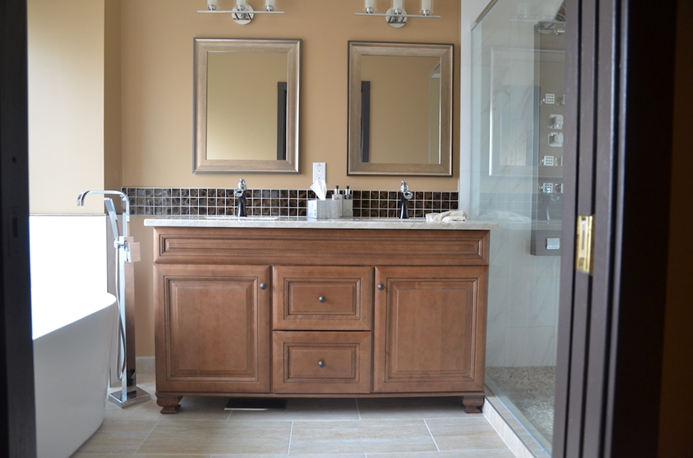 Bathroom vanities don't have to cost a fortune and most off-the-shelf units are in the $400 to $1400 range depending on size. Most of our renovations fall into that range for vanities.
These off-the-shelf models come in standard sizes from 24, 30, 36 and 48in. Larger sizes – 60, 72, 84in - are usually special orders and can be ordered online from stores like Home Depot, Rona, Lowes and others.
Vanity Tops
Vanities come with or without top combos. Combo tops are man-made with a built-in molded sink and holes for faucets.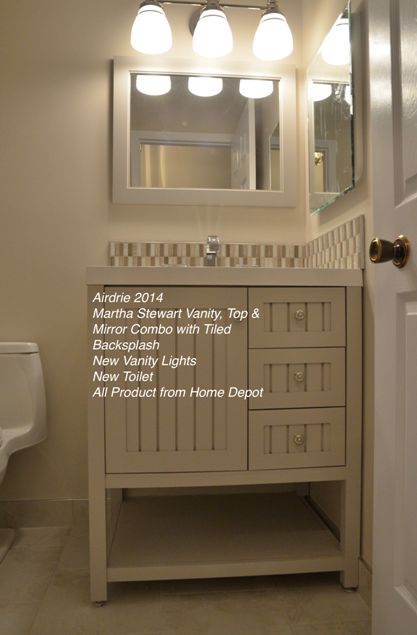 Vanities without top combos can be matched with in-store tops that come in standard sizes, colours and finishes. Most are granite composites which are simply re-constituted granite moulded tops with built-in sinks and backsplashes. These are actually high quality products that are tough and available in a variety of styles to suit any vanity you'll see on the shelf. And a fraction of the cost of solid granite or quartz.
Most off-the-shelf vanities at stores like Home Depot, Rona and Lowes are well built modern designs. Standard features to look out for are soft-close drawers, quality out-of-sight hinges, and solid frame construction.
Don't expect too much wood construction but that doesn't mean the vanity is low quality. Wood is expensive and keeping costs down means non-wood construction for the most part. Today's non-wood products are excellent quality.
Whether you buy a vanity combo set or separate top, you should know what type of faucet you'll be choosing. Single hole faucets are the trend and are stylish and most manufacturers such as Moen and Delta have these models. Vanities are ready for plumbing.

Vanity tops can come drilled for single or 4in hole styles (3 holes or 4in spread). Most single hole faucets come with a flange to cover the 4in hole design but you can find some tops drilled for single holes only so just keep that in mind – choose your top and faucet together so you know which hole pattern to buy for your vanity.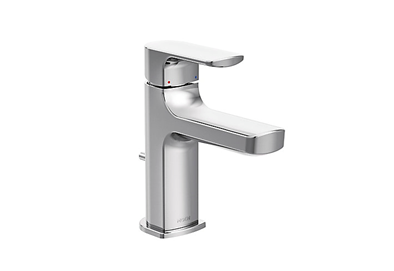 Many of our customers choose natural granite or quartz tops which are custom cut and fit. These typically range from $700 to $1200 depending on size from 30in to 48in. For a little extra money natural stone is nice.
Many home-owners co-ordinate bathroom renovations with kitchen and wet bar. Remember, unless you reserve granite or quartz, samples will vary one year to the next. Because stone is cut from bedrock the natural beauty is also infinitely variable.
Planning ahead allows you to make sure your bathrooms, kitchen and wet bar countertops match exactly with the same stock. That said, it's possible to match tones if not exact batches so not to worry if your project is spread over years. Besides many suppliers will stock large amounts so matching is still possible.
Custom Vanities
So what about custom vanities? Our experience shows that the big box stores have a really good handle on quality and style. Most of our customers manage to find what they like in-store or on-line.
In our opinion unless you're willing to spend at least three times the cost of off-shelf vanities, stick to off-the-shelf units. Custom can be beautiful and sometimes is the only option for fitting into exact sized spaces between two walls, for example. But don't expect equal quality to off-the-shelf product unless you pay a lot extra. For unique designs and exact fit in tight spaces you'll need to budget accordingly.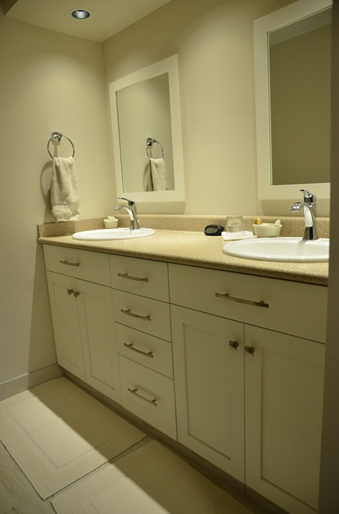 Antique Refinished Vanities
Refinished vanities are also great quality and value. There are re-finishing companies that take old classic "real-wood" vanities and completely refinish these and add new modern hardware. You can get modern vanity quality with that "old antique" look. Just know that this will cost significantly more and if that's not a problem, you will also be happy.
If you're designing your bathroom renovation in your mind you can colour coordinate your flooring and shower wall tile design with your vanity. Lots of colours and styles are available to create your own unique bathroom design.
Remember that bathroom renovation costs vary depending on many factors including finishes. Prices for 3 Piece Bathrooms range from budget $7,900.00 to $12,900.00. For 4 Piece Ensuites budget $14,900.00 and up. For all new Basement Bathrooms budget $14,900.00 and up. We provide accurate estimates based on your design and we try to fit your budget. Bathrooms add dollar for dollar value for your home. So an investment in a new bathroom is an investment in your home.
Call us with questions and FREE Estimates any time at 403-560-8015. We're here to help.