Barrier-free and independent living is easier and more affordable than you might think. Remodeling with barrier-free in mind adds cost over a standard renovation but adds value to your home. And may give you the freedom and independence you are seeking in your day to day living at home.
DOORWAY
Most bathroom doorways are 24 to 30in and can easily be modified for 32 or 34in sizes to accommodate walkers or wheelchairs.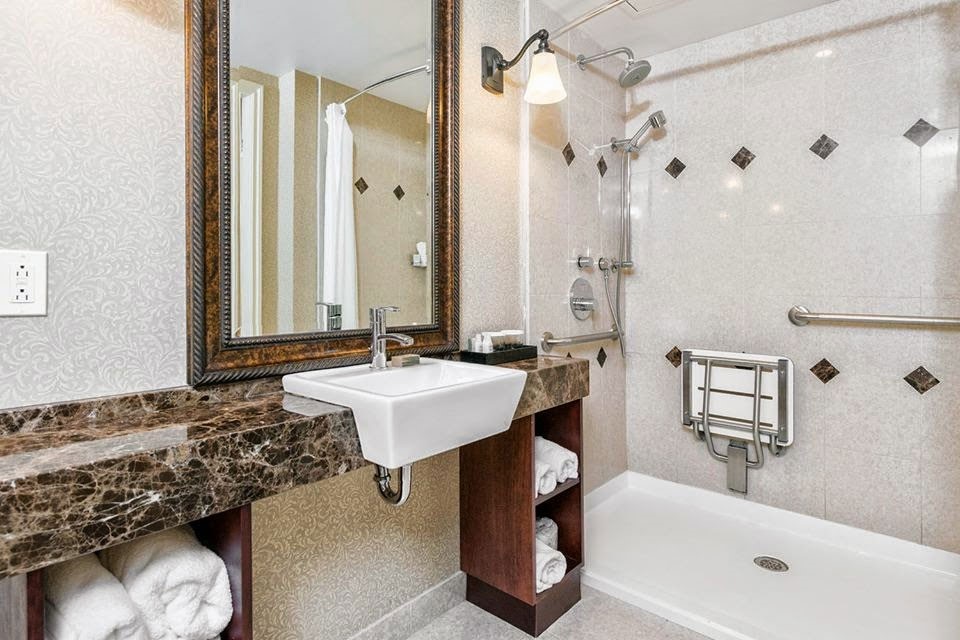 VANITY
Wall-hung vanities are ideal to wheel your walker or wheelchair underneath. Heights can be set for your preferred height but once set are permanent.
MIRROR
Mirrors can be set lower for walker and wheelchair heights and taller mirrors will still accommodate standing persons.
LIGHTS
Sconce lights are perfect at the sides and lower down for better personal lighting.
TOILET
Avoid low-end toilets that are small and too low. Higher longer models work best with walkers and wheelchairs. There are lots of choices.
SHOWER
Tub to shower conversion allows you independent and safe showering.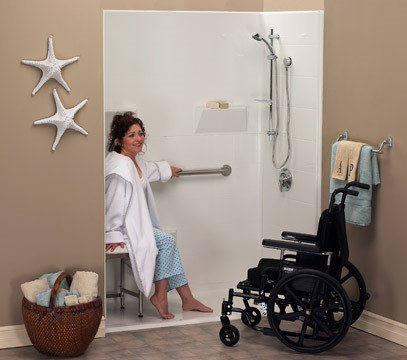 Ideally, the RAMP Approved Shower System shown here is best and qualify for RAMP funding. Easy in-out and room to turn safely around inside. It comes with standard accessories and is high quality.
Less expensive off-the-shelf units are available but will have raised curbs that may require help to get your walker or wheelchair over and loses the independence we are seeking.

FLOORING
For traction and foot-friendly flooring, we recommend vinyl planking. High-quality vinyl easy to wheel your walker or wheelchair on and cushioned. Cost is comparable to tile and available in all colours and patterns.

GRAB BARS
For showers a minimum of two or three grab bars. At the toilet one or two. At the vanity one at the entry is helpful. All sizes from 6in to 24in plus and vertical, horizontal or angled to any degree you want. How many and where are entirely up to you.
SEATS
Shower seats are handy and helpful. Some seats fold down and others are portable for personal preference.
Our Barrier-Free bathrooms $12,000 and up. RAMP may provide up to $7500 per qualified person funding up to $15,000 maximum per household. With or without RAMP you can make your bathroom barrier-free and enjoyable and safe for less than you might think. Call us.
RENOVATING?
Call us at Calgary Bath & Home Renovations
FREE ESTIMATES CALL
403-560-8015
We're here to help