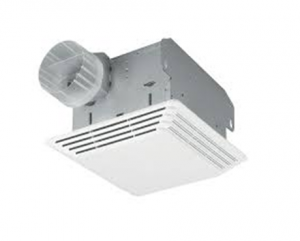 HOW YOU KNOW YOU NEED A NEW EXHAUST FAN
Mirror totally steams up after shower done and you need to towel it dry to see yourself.
You need to open your bathroom door to get rid of the steam.
Air feels thick and steamy for minutes after shower is done.
Exhaust fan noisy or no sound at all (fan not working).
Bathroom odours linger.
No exhaust fan – it's 40 below outside and you prefer to keep the window closed.
Mould seems to be taking over.
Most bathrooms we see in our renovation business at BathandHome.ca have original (useless) or broken exhaust fans. Anyone trying to fix their hair in the morning with 100% humidity from the shower will agree that the exhaust fan needs an overhaul.
Good exhaust fans should be at least 90cfm or greater and 0.9 sones (sound level) or less. There are lots of good models to choose from.
You can still buy exhaust fans for as low as $20 at Home Depot but these are next to useless and not recommended. Premium models cost $100.00 and up. Many new models come with a built-in sensors that keep the fan on after you shut if off till the humidity drops to acceptable levels.
Costs to replace existing fans range from $350 for just a new good fan to $1000 for complete new installation including cutting in the roof vent. This is a job for professionals to avoid roof leaks and other issues.
Windows as vents for bathrooms are pretty useless due to seven months of winter and don't provide useful venting except in ideal summer conditions. Even early summer mornings can be too cool to stand in the shower soaking wet with the window open.
A good strong quality exhaust fan will eliminate mould issues and make your bathroom feel clean and dry and ready for the next person.
We routinely replace exhaust fans in our bathroom renovations but you can replace your exhaust fan separately any time.
With well-chosen product and quality professional installation complete or partial bathroom renovations add value and personal enjoyment to your home.
We're happy to share our ideas and experience with you.
Call us for a FREE QUOTE at 403-560-8015. At BathandHome Renovations we build good bathrooms.