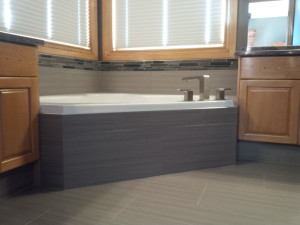 Bathroom flooring needs to be Durable – Attractive – Easy-to-clean.
Will your bare feet love it?
Here are the Seven Choices from Worst to Best.
#7-Carpet
Summary:  Never a good idea.
Bad choice for bathroom flooring. Moisture and carpeting do not mix. Some builders still think this is a good idea so you'll find homes with carpeting in bathrooms. Most people think its not and replace it first chance.
#6-Solid Hardwood
Solid hardwood looks great and feels warm under foot. But moisture kills solid hardwood in seconds. Any spilled water or high humidity will destroy your hardwood floor in short order. Not a good choice.
#7-Laminate Flooring
Surprisingly, laminate flooring is a better bathroom flooring choice than you might think. The top wear layer is amazingly strong. Dupont RealTouch, for example, guarantees the wear layer on its line of laminate flooring for 30 years. IKEA installs it's brand of laminate at the entrance of some stores and despite year-round grit and wear and tear and hundreds of thousands of people trampling over it, they last and look great. Calgary IKEA had laminate flooring at its busy entrance for more than five years and it stood up amazingly well. But it's still more suitable for non-bathroom applications.
Laminate-seams need to be well sealed or it will fail you the moment you spill water on it so bathrooms are not the first choice for this product. You can't fix water damaged laminate flooring. Avoid it in bathrooms.
One more thing about laminate flooring is the choices available now are stylish, attractive and comparable to and sometimes indistinguishable (almost) from Hardwood or Engineered Wood flooring. For families with pets and kids with scratchy toys, laminate flooring is a great alternative and economic option – just not in bathrooms.
#8-Engineered Hardwood
Good quality Engineered Wood is actually better, for practical reasons, than Solid Hardwood. It withstands impact damage and scratches much better than Solid Hardwood and comes in comparable styles. And costs less. Usually.
Engineered Hardwood is actually a thin 2-3mm veneer over melamine (good) or plywood base (best). Good quality product looks the same as Solid Hardwood.
Engineered Wood with melamine base is still seriously allergic to water and can swell with spills. However plywood base (premium product) is more tolerant and won't swell unless soaked. Good installation is important.
Powder Rooms, because they are not subject to water torture as are main and ensuites, are ideal bathrooms to integrate the rest of your main floor into it adding a nice classy touch.
For main and ensuites where spills and high humidity are guaranteed - Engineered Wood floors are not recommended.
#9-Stone
Good quality, long lasting, but not popular for most flooring applications. No moisture problems with marble, granite, limestone, but staining and maintenance can be an issue. Stone is mid-level as a choice but the highest cost.
Stone is cold and can be slippery. This can be solved by having the stone textured by sandblasting or purchasing naturally textured stone, such as slate.
Some people find stone is high maintenance and hard to clean. For finicky housekeepers, stone can be frustrating.
Finding qualified stone installers also can be hard and scarcity, as always, breeds higher cost. For these reasons, you won't find too much stone in bathrooms or floors in general.
#10-Vinyl
Summary:  Good aesthetics; supreme practicality, competitive cost.
Vinyl is the standby and most popular choice by builders for new home bathroom flooring because it's cheap and easy to install and reasonably durable. Style-wise, generic sheet or peel-and-stick vinyl is at the bottom of most people's choice and gets replaced early on. Avoid this.
But let's not discount vinyl completely. Really good quality vinyl flooring products are now available by makers such as Armstrong and Dupont and more people are opting for vinyl for its warmth and friendly feel. Vinyl comes in all kinds of colours, modern designs and textures to suit any bathroom concept and prices installed are comparable to, or slightly less than, tile.
Quality Brand name vinyl flooring is an excellent alternative to tile and the only difference is personal taste. Don't skimp on the product and just as important remember that vinyl is not a handyman job, no matter what you've been told. Spend the money on an experienced professional and vinyl (good brand name vinyl, that is) is on par with the #1 choice below and is highly recommended.
#11-Ceramic or Porcelain Tile
Summary:  The King of bathroom flooring
Ceramic or porcelain tile (see the difference on my previous blog article), can achieve a rich, textured, solid feeling. Like vinyl, it's waterproof, durable and feels permanent. Its low-maintenance, easy-cleaning properties and styling options make it the #1 Choice for bathroom renovations.
There are infinite colour and design combinations to give you exactly the floor you want. You can even find tile that looks like stone, without stone's pain. Flooring tile for bathrooms are best in larger sizes such as 10x20in or 12x24in. For safety, select textured floor tiles – most manufacturers label their product for 'floor' or 'wall' applications.
Tile can be cold, especially in basements. Radiant in-floor heating solves that and converts your bathroom into a spa. Modern in-floor thermostats can be set to run your in-floor heating at idle or off during off-peak times and crank it up automatically for the morning and evening rush hour.
In-floor heating can supplement or completely eliminate bathroom hot air registers or electric baseboards and provide nice even heat that rises to the ceiling. Once tried –forever converted.
For FREE ESTIMATES – Call us at Bath and Home Renovations 403-560-8015 – we've got the experience and know-how to make your bathroom renovation a pleasant experience.