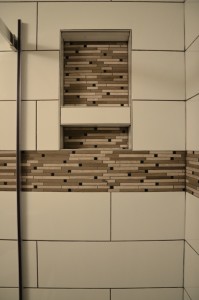 Tile is a tough natural product and been around thousands of years. Roman tile art two thousand years old looks good as new today.
Tile is manufactured all over the world. Italy and Turkey have a long history for high quality tile. Check with your tiler if you're not sure.
Canadian's tile fancy is catching up to Europe and other countries with strong tile tradition. Travelers visiting overseas take notice of hotels, homes and public places embellished with tile and are bringing new tile ideas back home. Tile has found a place in almost every Calgary renovation making it a mainstay in any project.
Knowing and trusting your tiler's experience and skills as a craftsman is as important as tile choice. A handyman tile job can save money but the finished experience can be less than satisfactory.
The following is an excellent article "Ceramic & Porcelain Tile" from HouseandHome.com Jan 2009.
Ceramic & Porcelain Tile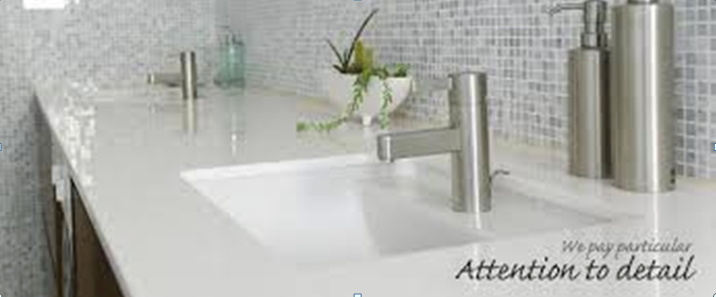 When renovating or building a new home, flooring is one of the most important considerations. Whether the area in question is high traffic, prone to moisture (bathroom, kitchen), below grade (basement), or to be installed over radiant heat, the correct flooring can make a huge difference.
Many homeowners ask us which is better: ceramic or porcelain. Since both tiles offer an endless array of styles, sizes, colours and textures, the answer is less about aesthetics than it is about functionality. The tile you need depends on the room you're thinking of installing it in and where the room is located in the house.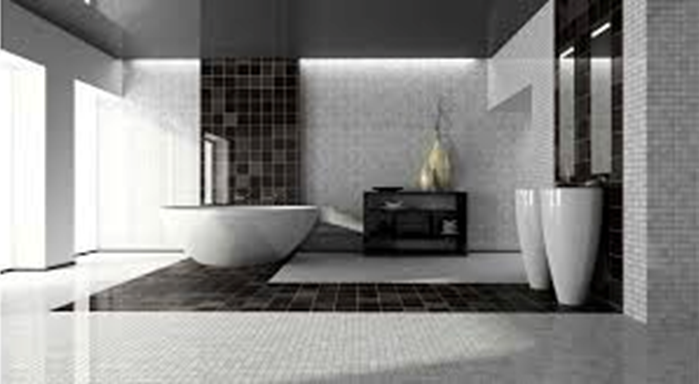 Ceramic
Ceramic tile is made from a mixture of clays that are pressed into shape. Tiles have either a glazed or unglazed surface. Glazed tiles have a special ceramic coating that is applied to the body of the tile and then fired under tremendous heat. The glazing becomes hard and non-porous, resulting in a flooring that possesses the following characteristics:
Stain resistant
Scratch resistant
Fire resistant
Won't fade from sun light
Slip resistant
Easy to clean
If glazed, the glaze on the tile doesn't go all the way through, so if a tile gets chipped, the inside colour will show through. Glazed tiles may tend to get scratched on frequently used countertops, but are ideal for walls. Both ceramic and porcelain glazed tiles are available in high-gloss, matte, and abrasive slip-resistant finishes. For floors, make sure to choose a finish that won't be too slippery or show scratches easily. Ceramic tiles with bright reflective surfaces (bright glaze finish) are not recommended for floors as they can pose a slip hazard and have poor abrasive resistance.
Porcelain
Myth: All porcelain tiles are "through" coloured products. Actually, only "unglazed" porcelain tiles are through-coloured, meaning that if the tile is chipped, the colour showing beneath the top layer will be the same throughout the thickness of the tile. Once a tile has been glazed, whether ceramic or porcelain, the body under the glaze will never be exactly the same colour or texture as the top layer. This is an important consideration when choosing the tile that is right for your space.
Porcelain tile is actually a form of ceramic tile, but made from a much finer clay than ceramic, composing kaolinitic minerals, quartz and feldspar, covered by spray and shaped by dry pressing the clay dust to form a ceramic material that is then fired at higher temperatures than ceramic. One of porcelain's most important characteristics is its resistance to moisture. It is also resistant to wear, deep abrasion and frost, making porcelain a great product for use in harsh climates.
Available in matte, unglazed or high polished finishes, porcelain used to be available only in standard 6" by 6" wall tiles and 12" by 12" floor tiles. Today, tiles are made in many different sizes, including 20" by 20" for those spaces that would benefit from a stone "slab" look.
Unglazed porcelain tiles are very tough and they are extremely vitreous and dense. They are a through-colour product and in very heavy traffic areas like hallways they may wear, but will retain their original colour. Unglazed porcelain tiles are available in various finishes, from matte to high gloss, and some have textured finishes, made to imitate natural stone.
Glazed porcelain tiles have a gloss or matte finish, and they can be ground and polished to produce a completely flat surface. They are also available in the stone imitation finish.
The main beneficial characteristics of a porcelain tile, be it glazed or unglazed are:
The body is less porous, which makes it perfect for bathrooms and kitchens where water is a consideration.
Being more dense than ceramic, porcelain tiles will tolerate higher loads.
Other important considerations when choosing tile include the slip-resistance, size of tile, size and colour of grout joints, thickness of tile, height variations from room to room, suitability of the subfloor and maintenance of the tile.
Tile rating
The PEI classification (Porcelain Enamel Institute rating) of 0 through 5 should be considered when choosing the right tile for your space. The rating from 0 to 5 (0 for lightest foot traffic, 5 for heaviest) applies to both ceramic and porcelain tiles. The rating is not a measurement of quality but an indicator of the best areas of use manufacturers recommend. Typically, the most aesthetic tiles will have a lower rating, for example a PEI 2 tile isn't manufactured with extra heavy traffic and abrasion resistance as the primary concern. Most tiles with high gloss, metallic finishes or special colours will tend to be rated in this group. Tiles used for very heavy traffic areas, like PEI 5, are designed with function as the foremost concern, aesthetic design next in importance. The technical aspects such as surface abrasion resistance will be considered and must be achieved first before aesthetic effects are incorporated.
Class 0: No foot traffic
Wall tile only and should not be used on floors.
Class 1: Very light traffic
Very low foot traffic, bare foot only (master ensuite, spa, bathroom).
Class 2: Light traffic
Slipper or soft-soled shoes (second level main bathroom areas, bedrooms).
Class 3: Light to moderate traffic
Any residential area with the possible exception of some entries and kitchens if extremely heavy or abrasive traffic is anticipated.
Class 4: Moderate to heavy traffic
High foot traffic areas where abrasive or outside dirt could be tracked (residential entry, kitchen, balcony, and countertop).
Class 5: Heavy traffic
Ceramic tile suggested for residential, commercial and institutional floor subjected to heavy traffic.
Because of its exceptional properties, porcelain has become the flooring of recent years. It is the most durable of the hard body tiles, 30% harder than granite. Porcelain was previously used in smaller mosaics residentially, while larger tiles were manufactured for mostly commercial use. Today, with new methods of manufacturing, beautiful new styles and more competitive pricing, they are a hot trend. If installed properly, they should last forever. Polished porcelains are virtually impossible to scratch, functional and beautiful, a sure-fire hit for any home improvement project.